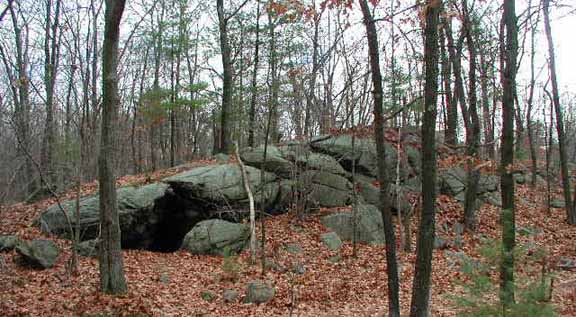 Hidden amongst the crags, this is the home to Creek Pack, a diverse group of wolves who survive and live together sleeping amongst the fallen leaves and in he cracks of the rocks. It is where the wolves sleep, meet, bring fresh-kill, get treated for injuries or illness, receive orders, share tongues, make reports to the Pack Alpha or Beta , and have ceremonies. Some wolves, such as queens, pups, and elders stay in the camp, while the adults, apprentices, beta, and alpha patrol the territory and hunt.
Admin




Posts

: 12


Join date

: 2015-05-08



A autumn breeze flustered in the  pack's camp  leaves floating from the tree much like snowfall. as a red leaf made its way to the rock a white skull popped up, blue eyes gleaming mischievously as she  battered at the leaf with a fluffy pedestal, fluttering her gaze from the annoying plant, the alpha of Creek pack turned her blue opticals toward the sky, the sun seeping over the forest trees in the first light of  dawn.  giving a tired yawn, the fea  stretched herself out luxuriously a   yawn escaping from her maw.   she had only  managed to get  a few hours of sleep and she  could feel the muscles under her pelt burning with the desire to sleep, although she knew it was time to wake up the pack for the first patrol. Inhaling the early morning breeze Snow  tucked her long hind legs under her as she ambled her way down the rocky crag to where he pack was resting.
Admin




Posts

: 12


Join date

: 2015-05-08



As Dawn lay beneath a cool rock, the first peak of sunlight illumated her paws. She blinked open her eyes as she became aware of the ruffling of crisp autumn leaves. For a moment the she-wolf became alert until she lifted her bright blue eyes to the sight of her sister coming toward the rest of the sleeping pack. Dawn stood and waited for Alpha Snowstar to arrive, so that she could help with Snow's organization for the day.



Posts

: 3


Join date

: 2015-05-08


Age

: 16


Location

: NEVERLAND ♥



╭xxxxxxxxxxxxxxxxxxxxxxxxxxxxxxxxxxxxx╮
xxxx
♕ м σ т и s ᴘ ᴏ т s - и ᴇ ᴀ ʟ ᴇ ʀ ♕
xxx❖ pronouns : they/ them/ their
xxx❖ age : 1 year, 9 months
xxx❖ tags : shadow-wing, anyone
xxx❖ mood : grumpy, sleepy
xxx❖ mate : shadow-wing
╰xxxxxxxxxxxxxxxxxxxxxxxxxxxxxxxxxxxxx╯
Squinting against the rising sun's light within the camp, Mothspots stepped through the brambled entrance, herbs bundled between their jaws. After a brief pause to glance around they gave a small sigh of relief; few other wolves had risen yet. Casting a brief glance over their shoulder, they pressed further on, approaching and slipping momentarily inside the healer's den to deposit the herbs, reappearing quickly after. Giving their pale golden pelt a shake to drive off weariness, they stepped back toward the center of camp, flopping down beside Shadow-wing. "Hope Snowstar sends out a hunting patrol soon," they grumped, dropping their head onto their paws.



Posts

: 2


Join date

: 2015-05-08


Age

: 22



◤xxxxxxxxxxxxxxxxxxxxxxxxxxxxxxxxxxxxxxx◥
xxxx
☽ s н ᴀ ᴅ σ ω ω ι ɴ ɢ - ѕ c σ υ т ☾
xxx
✘ pronouns : she/ her/ hers or they/ them/ their
xxx
✘ age : 2 years
xxx
✘ tags : mothspots, anyone
xxx
✘ mood : tired, content
xxx
✘ mate : mothspots
◣xxxxxxxxxxxxxxxxxxxxxxxxxxxxxxxxxxxxxxx◢
Shadow-wing trailed close behind her mate into the camp, casting a brief glance around at the few other wolves who had begun to emerge from their dens. As Mothspots moved away to drop their herbs off in the healers den, Shadow-wing headed over to a spot in the main part of camp that was illuminated by the rising sun, shifting to drop down onto her stomach and stretching her front legs out before setting her head down on her paws and closing her eyes, dark pelt quickly growing warm from the sunlight despite the rather chilly breeze blowing through camp. She flicked her eyes open again as Mothspots settled beside her, huffing quietly in agreement with their words and tilting her head to briefly press her nose against the side of their face. Shadow-wing desperately hoped Snowstar wouldn't expect much of her today--she didn't need much sleep to function, but even she was quickly growing exhausted with all of these exceptionally early mornings.



Posts

: 3


Join date

: 2015-05-08


Age

: 26



Upon being awakened by the bright sunlight entering her den, Lightningstrike rose to her feet and padded into the camp, stretching her limbs one by one as she did so. She first took a look around the came to see who was already awake before she decided to make her way over to Dawnstorm who was awaiting Snowstar's arrival. Lightningstrike stopped beside her mother and gave her a nod in greeting before stating, "It's starting to get a bit chilly, don't you think?" As she said that, a light breeze ruffled her fur the wrong way. Lightningstrike truly wasn't a morning person, but she had to at least pretend for the sake of the pack.



Posts

: 2


Join date

: 2015-05-09


Age

: 20



Dawn smiled at the beta, shaking her fur a bit as a breeze drifted by. She flicked her tail, glancing at the other wolves before responding to Lightning. "A bit, yes." Dawn sat on the floor of crunched leaves and dirt, her tail remaining curled at her side. It was already chilly, and bound to get chillier as the day progressed. She frowned, hoping it wouldn't get too miserably cold.



Posts

: 3


Join date

: 2015-05-08


Age

: 16


Location

: NEVERLAND ♥




---
Permissions in this forum:
You
cannot
reply to topics in this forum